The Be Whole Journey
Designed to integrate your body, mind, and heart and access the wisdom they hold, the BE WHOLE JOURNEY supports you over a 12-month period, in living from a place where you learn to listen and trust yourself more, build on your strengths and build commitment to being an active participant in creating the life and work you desire.
This extensive experience is broken down into specific experiential exercises and topics that are simple, yet intentional, to fully cultivate a more fulfilling experience of how you bring yourself to your life and work:
Body Wisdom  
|

 Mindful Matters  

|

 Awakening Your Heart
By committing yourself for 12 months,
you are dedicated to your growth, evolution and desire
to integrate your happiness from the inside out.
This experience is for you if you desire:
To forge a deeper connection with yourself and others
To accept the gift of your challenges
To view your resistance as an ally
To harness a positive shift in your thinking
To receive more balance and less stress
To love yourself more fully
To access inspiration
To live from a state of ease instead of fear
To gain tools for your toolkit that are easy, effective and make a difference
To experience more pleasure, fun and joy in your life and work
To master your energy more effectively
This experience consists of the following:
Weekly reading and exercises to be completed independently
Access to resources that will support your learning and development
Available for 1:1 sessions or in peer group format of 4-8 people – addition
Clients share their coaching experience:
"Even the most seasoned, confident professionals need a fresh perspective every now and then. Working with Katie has been a breath of fresh air for me. It has helped me refocus on what is important to me (not everyone else), filter negative energy coming from others, and reframe my negative self-talk. With this adjusted view of my world, I have attracted many positive business and personal opportunities, and I look forward to every day with fresh eyes. I highly recommend working with Katie!"
"Katie has helped guide me through some big career transitions, and each time, I have ended up in a better place – both personally and financially. She has helped me develop strategies to make my life easier, and yet more productive. Katie is unique – a highly savvy business professional, as well as an intuitive counselor. The combination has been a powerful asset for me. If you want to make the most of your life, you will love working with her!"
"Katie has an extraordinary listening ability to extract what is most important to you and what is in the way of creating the life you want. Her integrative approach removes the separation between professional, physical, relationship, and spiritual goals. With Katie as my coach over six months, my vision statement became a reality and I now have the peace, passion and presence to trust myself and move forward with purpose and freedom."
The Be Whole Journey also includes an exclusive workbook available nowhere else:
The Be Whole Journey Playbook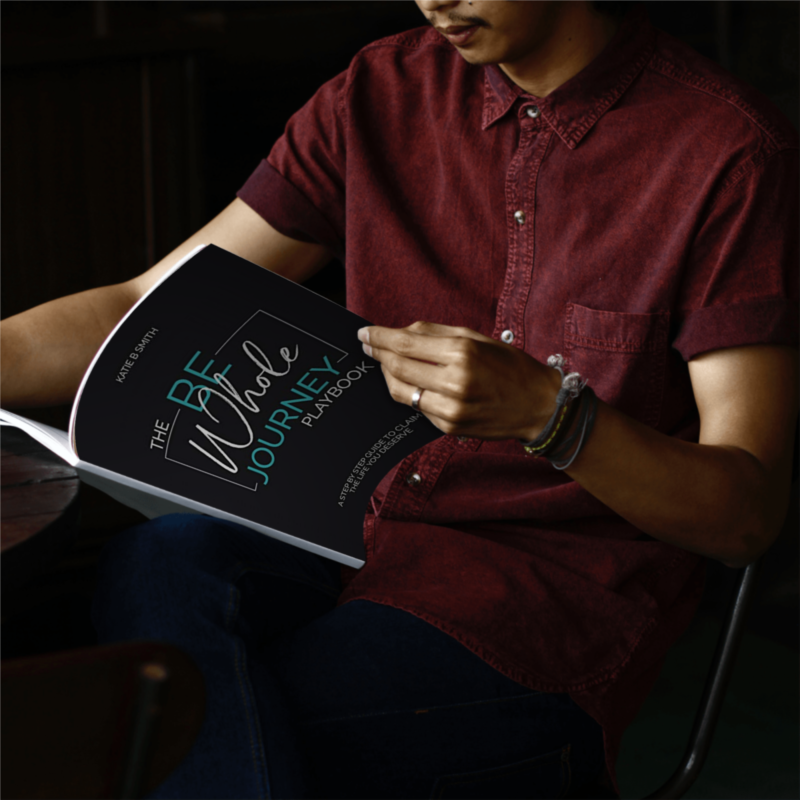 The intention of this playbook is to support you through the process of self-reflection and evaluation in how you are choosing to view and experience your life in this moment and being willing to participate in the life you desire to experience and to create for yourself.
The book is divided into four sections:
Body Wisdom, Mindful Matters, Awakening Your Heart, and My Life as a Gift.
You can read my book in conjunction with doing the playbook or prior to participating in the playbook.
My book is a guide towards practices and observations I have experienced that have moved me into creating a happy life for myself from the inside out, and it provides the overview of why we are doing the practices in the playbook.
It provides you with specific exercises to practice and to experiment with through a 12-month experiential course.
The 12 months are broken into 3 months per section so that you can take the time to grow into yourself and practice new ways of being as your awareness shifts.
This curriculum can be done by yourself or in a group setting of 4-8 participants, and for each of these options, you have the option of coaching with me for more impact, through the 12-month program.
My hope is that through these next 12 months this playbook will capture the experience and unfolding of your journey into yourself and your wisdom. Have it serve as a reminder of where you have come from and your ability to create and live fully into who you are and the gifts you have been given.
Look below for a sample of the Be Whole Journey Playbook.
If you are feeling the pull of this deep, life-altering experience,
it's time to heed the call.
This is the call of your heart and the first step in living more fully into your potential.
To learn more, click below to schedule your complimentary 30-minute discovery session.